Click on picture below to view full sized original image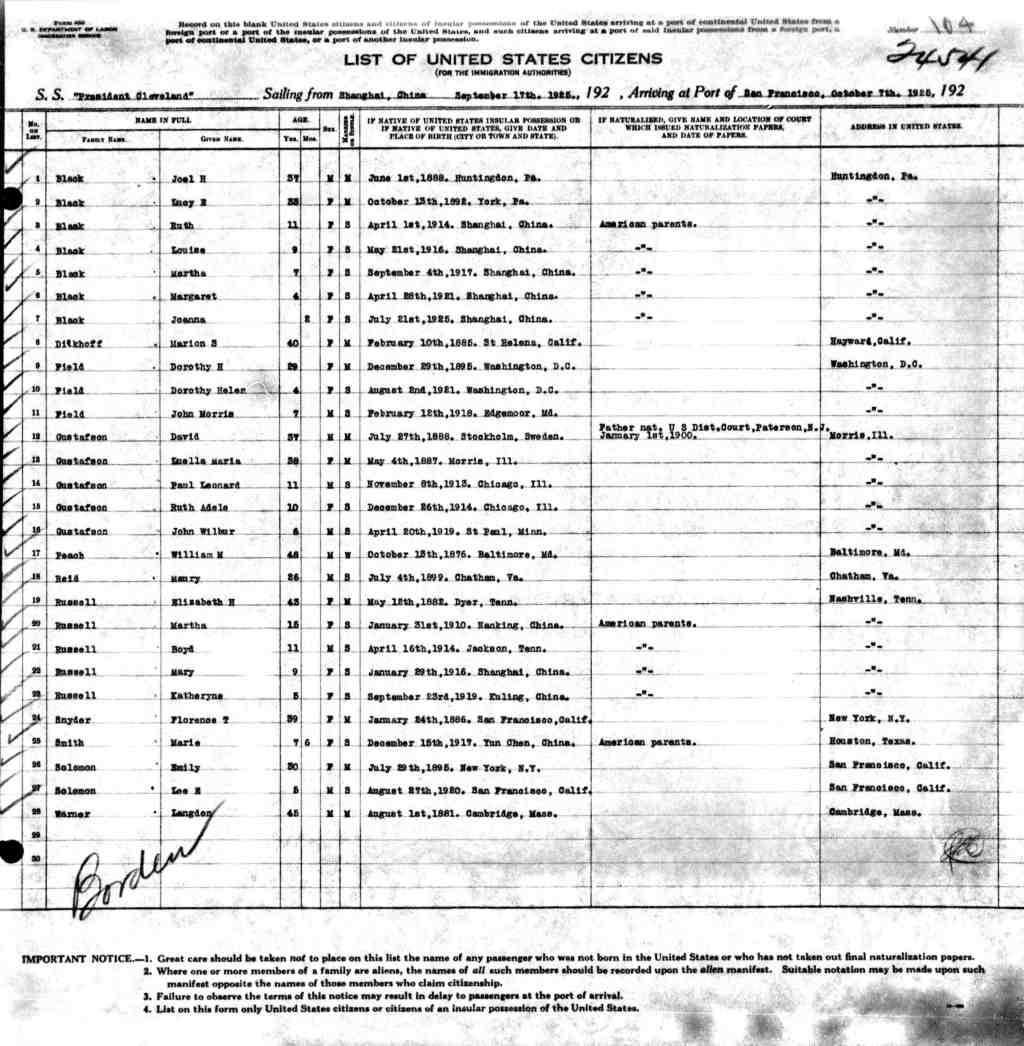 "On this passenger list you will find my grandmother, Elizabeth H. (Hutchison) Russell, and her four children. This was their return trip to the U.S. after the death of my grandfather, Wallace Boyd Russell, MD, on February 24, 1925, and also the death of the youngest child, David Barrie Russell, on July 12, 1925. It is my understanding that David was never a healthy child. He was 11 months old when he died. At the time of these two deaths, the Grandmother and the children were living in Kuling at their summer home in the mountains. There was fighting going on below so this was a safer place for them to be than living at the hospital in Changchow (now Changzhou). Grandfather was tending to those who were hurt in the fighting. He caught Typhus Fever from the soldiers. One night someone came to Grandmother to tell her that Grandfather was dying. This man walked Grandmother down the mountain during the night, and they went to Soochow (Suzhou) to the hospital. Grandmother was able to see Grandfather before he died. The family left for the United States on S.S. President Cleveland from Shanghai on Sept. 17, 1925. From there they went to Kobe, Japan, leaving there on Sept. 20, on to Yokohama, Japan, leaving there on Sept. 22, then went to Honolulu, leaving there on Oct. 1, and finally arriving in San Francisco on Oct. 7, 1925."

"Those traveling and heading to Nashville, TN include:
Elizabeth H. Russell, 43 yrs., born May 12, 1882, Dyer, TN
Martha Russell, 15 yrs., born Jan. 31, 1910, Nanking, China
Boyd Russell, 11 yrs., born April 16, 1914, Jackson, TN
Mary Russell, 9 yrs., born Jan. 29, 1916, Shanghai, China
Katheryne Russell, 5 yrs., born Sept. 23, 1919, Kuling, China"